Product Summary
The PIC12F629-I/P is a type of 8-Pin FLASH-Based 8-Bit CMOS Microcontroller, which has high performance RISC cpu, only 35 single word instructions to learn, all single cycle instructions except branches;operating speed is DC-20 MHz oscaillator/clock input and DC - 200 ns instruction cycle, interrupt capability.
Parametrics
Absolute maximum ratings: (1)ambient temperature under bias is-40℃ to +125℃; (2)storage temperature ranges from 65℃ to+150℃; (3)voltage on VDD with respect to VSS is -0.3V to +6.5V; (4)voltage on MCLR with respect to Vss is -0.3V to+13.5V; (5)voltage on all other pins with resp ect to VSS is -0.3V to (VDD + 0.3V); (6)total power dissipation is 800 mW;(7)maximum current out of VSS pin is 300 mA; (8)maximum output current sunk by any I/O pin is25 mA; (9)maximum output current sourced by any I/O pin is 25 mA.
Features
Features: (1)internal and external oscillator options:precision Internal 4 MHz oscillator facto ry calibrated to ±1%,external oscillator support for crystals and resonators,5 μs wake-up from SLEEP,3.0V, typical;(2)power saving SLEEP mode;(3)wide operating voltage range- 2.0V to 5.5V;(4)industrial and extended temperat ure range;(5)low power power-on reset (POR);(6)6 I/O pins with individual direction control;(7)high current sink/ source for direct LED drive;(8)analog comparator module with:one analog comparator,programmable on-chip comp arator voltage reference(CVREF) module,programmable input multiplexing from device inputs,comparator output is externally accessible.
Diagrams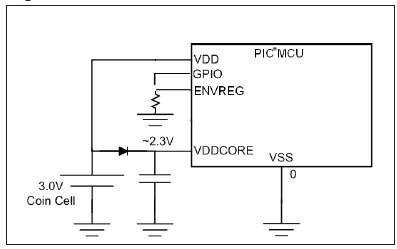 Image
Part No
Mfg
Description
Pricing
(USD)
Quantity

PIC12F629-I/P

Microchip Technology

8-bit Microcontrollers (MCU) 1.75KB 64 RAM 6 I/O Ind Temp PDIP8

Data Sheet



| | |
| --- | --- |
| 0-1: | $0.69 |
| 1-10: | $0.55 |
| 10-25: | $0.54 |
| 25-100: | $0.53 |

Image
Part No
Mfg
Description
Pricing
(USD)
Quantity

PIC1018SCL

Other



Data Sheet

Negotiable

PIC10F200

Other



Data Sheet

Negotiable

PIC10F200-E/MC

Microchip Technology

8-bit Microcontrollers (MCU) 384B Flash16B RAM 4 I/O

Data Sheet



| | |
| --- | --- |
| 0-1: | $0.36 |
| 1-10: | $0.29 |
| 10-25: | $0.26 |
| 25-100: | $0.24 |


PIC10F200-E/OT

Other



Data Sheet

Negotiable

PIC10F200-E/P

Microchip Technology

8-bit Microcontrollers (MCU) U 579-PIC10F200-I/P

Data Sheet

Negotiable

PIC10F200-I/MC

Microchip Technology

8-bit Microcontrollers (MCU) 0.375KB Fl 16B RAM

Data Sheet



| | |
| --- | --- |
| 0-1: | $0.33 |
| 1-10: | $0.26 |
| 10-25: | $0.25 |
| 25-100: | $0.22 |