Product Summary
The S2065J is a Teccor line of thyristor SCR semi-conductor. It is half-wave, unidirectional, gate-controlled rectifier which complement Teccors line of sensitive SCRs. Teccor offers devices with ratings of 1A to 70A and 200V to 1000V, with gate sensitivities from 10 mA to 50 mA. If gate currents in the 12μA to 500μA ranges are required, see Sensitive SCRs section of this catalog. Three packages are offered in electrically isolated construction where the case or tab is internally isolated to allow the use of low-cost assembly and convenient packaging techniques. The Teccor line of SCRs features glass-passivated junctions to ensure long-term reliability and parameter stability. Teccors glass offers a rugged, reliable barrier against junction contamination. Variations of devices covered in this data sheet are available for custom design applications. Consult the factory for more information.
Parametrics
Absolute maximum ratings: (1)IT, Amps, IT(RMS): 65; (2)IT, Amps, IT(AV): 41; (3)VDRM & VRRM, Volts, min: 200; (4)IGT, mAmps: 5 to 50; (5)IDRM & IRRM, mAmps, TC=25℃: 0.02; (6)IDRM & IRRM, mAmps, TC=100℃: 1.5; (7)IDRM & IRRM, mAmps, TC=125℃: 3.
Features
Features: (1)RoHS Compliant; (2)Electrically-isolated package; (3)High voltage capability: 200 V to 1000 V; (4)High surge capability: up to 950 A; (5)Glass-passivated chip.
Diagrams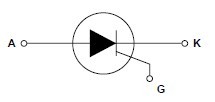 Image
Part No
Mfg
Description
Pricing
(USD)
Quantity

S2065J

Littelfuse

SCRs 65A 200V

Data Sheet



| | |
| --- | --- |
| 0-145: | $2.75 |
| 145-250: | $2.71 |
| 250-500: | $2.66 |
| 500-1000: | $2.49 |


S2065J_

Littelfuse

SCRs - Use 576-S2065J

Data Sheet

Negotiable

S2065JTP

Littelfuse

SCRs SCR 200V 65A Iso

Data Sheet

Negotiable