Product Summary
The SML-512DWT86 is a LED from ROHM.
Parametrics
Absolute maximum ratings: (1)Emitting color: Orange; (2)power disspation, Pd(mw): 75; (3)Forward current, IF(mA): 30; (4)peak torwad, IFP(mA): 100; (5)Reverse vottage, Vm(mA): 5; (6)Operating temperature, Tope(℃): -40 to +100; (7)Stotage temperature, Tstg(℃): -40 to +100.
Features
Features: (1)Forward Voltage: 2.00V; (2)Luminous Intensity: 63.0mcd; (3)Size-Height: 550μm; (4)Size-Length: 1.60mm; (5)Size-Width: 800μm; (6)Wavelength: 611nm; (7)Operating Temperature: 100℃(max); (8)Case/Package: 0603; (9)Lead-Free Status: Lead Free; (10)Lens Type: Non-Diffused; (11)Packaging: Cut Tape (CT); (12)RoHS Compliant.
Diagrams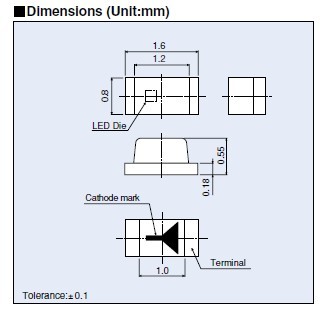 Image
Part No
Mfg
Description
Pricing
(USD)
Quantity

SML-512DWT86

ROHM Semiconductor

Standard LED - SMD ORANGE HIGH BRIGHT SMD 0.55MM THICK

Data Sheet



| | |
| --- | --- |
| 0-1: | $0.30 |
| 1-25: | $0.17 |
| 25-100: | $0.13 |
| 100-500: | $0.11 |

Image
Part No
Mfg
Description
Pricing
(USD)
Quantity

SML-010

Other



Data Sheet

Negotiable

SML-010DTT86

ROHM Semiconductor

Standard LED - SMD ORANGE LENS SMD 3X2mm

Data Sheet



| | |
| --- | --- |
| 0-2500: | $0.10 |
| 2500-5000: | $0.09 |
| 5000-10000: | $0.09 |


SML-010FTT86

ROHM Semiconductor

Standard LED - SMD LT GREEN LENS SMD 3X2mm

Data Sheet



| | |
| --- | --- |
| 0-1: | $0.43 |
| 1-25: | $0.20 |
| 25-100: | $0.16 |
| 100-500: | $0.13 |


SML-010LTT86

ROHM Semiconductor

Standard LED - SMD 660RED LENS SMD 3X2mm

Data Sheet



| | |
| --- | --- |
| 0-1: | $0.37 |
| 1-25: | $0.17 |
| 25-100: | $0.14 |
| 100-500: | $0.11 |


SML-010LTT87

ROHM Semiconductor

Standard LED - SMD "-86" T/R SUFFIX IS PREFERRED

Data Sheet



| | |
| --- | --- |
| 0-2500: | $0.09 |
| 2500-5000: | $0.08 |
| 5000-10000: | $0.07 |


SML-010MTT86

ROHM Semiconductor

Standard LED - SMD GREEN LENS SMD 3X2mm

Data Sheet



| | |
| --- | --- |
| 0-1: | $0.35 |
| 1-25: | $0.17 |
| 25-100: | $0.13 |
| 100-500: | $0.11 |