Product Summary
The TCA785 is a phase control IC. Its package is P-DIP-16-1. Besides, it is intended to control thyristors, triacs and transistors.
Parametrics
Absolute maximum ratings: (1)Supply voltage, VS: -0.5 to 18V; (2)Output current at pin 14, 15, IQ: -10 to 400mA; (3)inhibit voltage, V6: -0.5 to Vs V; (4)control voltage, V11: -0.5 to Vs V; (5)voltage short-pulse circuit, V13: -0.5 to Vs V; (6)synchronization input current, V5: -200 to ±200μA; (7)output current at pin 14, 15: VQ: Vs V max; (8)output current at pin 2, 3, 4, 7, IQ: 10mA max; (9)output voltage at pin 2, 3, 4, 7, VQ: Vs V max; (10)junction temperature, Tj: -55 to 150℃; (11)storage temperature, Tstg: -55 to 125℃.
Features
Features: (1)Reliable recognition of zero passage; (2)Large application scope; (3)May be used as zero point switch; (4)LSL compatible; (5)Three-phase operation possible (3 ICs); (6)Output current 250 mA; (7)Large ramp current range; (8)Wide temperature range.
Diagrams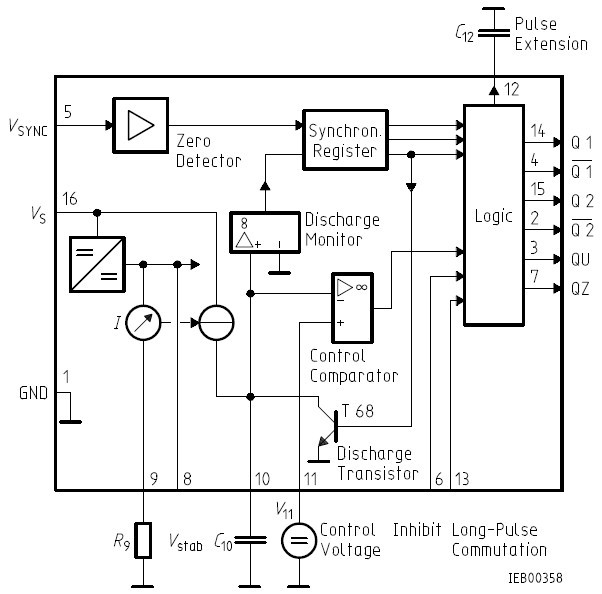 Image
Part No
Mfg
Description
Pricing
(USD)
Quantity

TCA785

Infineon Technologies

Interface - Specialized Phase Control IC 8V-18V 10mA

Data Sheet



| | |
| --- | --- |
| 0-1: | $3.97 |
| 1-10: | $3.57 |
| 10-100: | $2.93 |
| 100-250: | $2.46 |


TCA785P

Other



Data Sheet

Negotiable